The bunk room at the hostel housed several noisy sleepers. I had to use my ear plugs to get any sleep. My bed was by the door, a foolish choice, and so people were going in and out in the night letting in the hall light right in my face. I woke up tired as usual and grumpy. I made it downstairs in time for breakfast and I sat at a table with Buffy, Wallie, and Grocer. They were all headed out into the 100 wilderness today, their homestretch, the end of a long journey. They had made it into town the day before in time to set up food drops for the 100 miles and check in with the AT Info Center about their plan to climb Katahdin. I asked the group what they've learned over the 2000 mile hike. Grocer said "I realized that I had more childhood trauma than I thought I did." We all laughed and then nodded silently staring into our plates. Tree Trunk came in and tried to convince me to slackpack with him and a few others. It was going to rain and I wanted to rest after the 22 miles day.
By 7:45 am Grocer, Wallie, and Buffy were loaded up in the shuttle to the trail and gone. I was sad to see them go. I had a lot of chores to get to today so I walked over to the gear shop to look for a box of food my parents had sent for the 100 mile wilderness. Lucy had overnighted my fleece which I needed terribly to keep warm while I hiked. It looked like the box that I had forwarded here from Caratunk hadn't arrived yet. I would need that food or buy food here which is way overpriced. I spoke with the owner of the hostel, Poet and he agreed to bring me the box of food to my food drop. Blue Jay and Ember were in the shop finalizing their food drop so I asked if I could join in. They agreed and so we piled in our 4 day food supply into a 5 gallon bucket. We got a free soda or beer with our drop. I chose a Coke since I'm a lightweight. Poet would meet us at a dirt road crossing on the morning of our 3rd day. A 2 day food supply would make the trek over the Chairback Mountains a little more enjoyable. I bought a long handle spoon to replace the one I had left in Caratunk and walked downtown to the AT Visitors Center.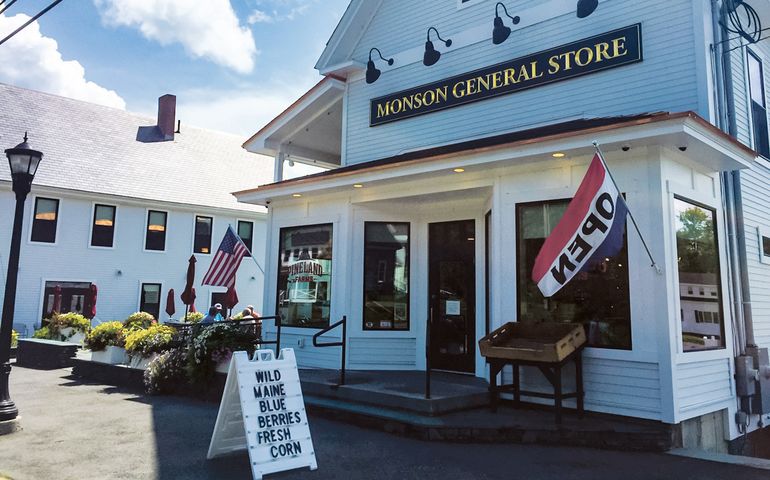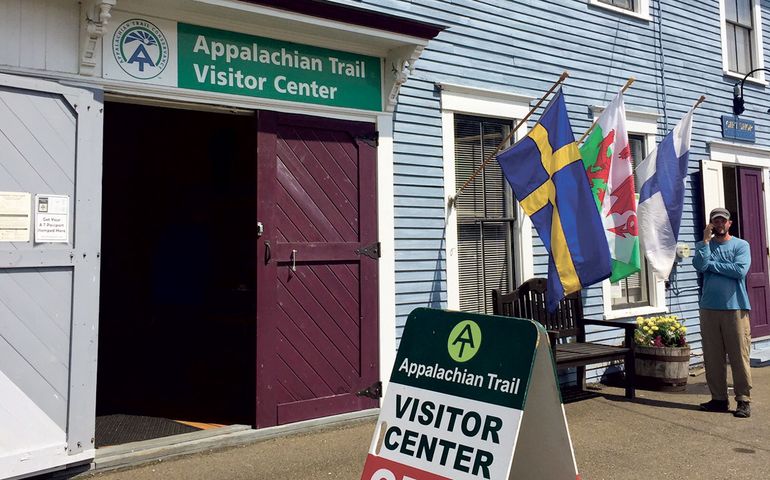 I walked in to the visitors center and met an employee there that gave me an orientation to the 100 miles wilderness and Baxter Park. Thru hikers typically made it through the 100 miles in 5 days. That's 20 miles a day. That sounded way to much for me and so I predicted it would take me 7 days, September 15th. The employee wrote my name down under Shepard's. It would be good to summit with him. Coincidentally, September 15th was the day the Country Music documentary would air on PBS, a series I had spent the last 3 years working on. It would be a fitting end if I could make it.
I looked on the calendar and saw many names of hikers I had met in my first week on the trail. Shock Top, Black Widow, Robin Hood, Bob. I was directed to a model of Katadhin in the middle of the room where the employee showed me the trails up and down the mountain. I was told that the Penobscot people, who inhabited these lands before colonizers stole it, regarded mountain tops as scared places for spirits and they didn't go to the tops out of respect. This fact made my stomach churn at the thought of the thousands of people that stomp around on the summit of Katahdin for a picture for Instagram. The word Katahdin means "great mountain" in Penobscot.
I was advised to hike up the AT and hike down the Abol trail, just as Warren had instructed. There was an option to walk along the "Knife's Edge" or hike down a longer "easier" way but you would have to either carry your full pack or hitchhike back to the trailhead to get your stuff. Baxter State Park has a lot of rules for people that wanted to hike Katahdin. The average round trip Katahdin hike is 8-12 hours for about 7 miles. This didn't add up to me. In September, Baxter park required hikers to begin their hike before 9am. No one would be allowed after that. There were 3 ways to approach camping at Katadhin. You could reserve a camping spot if they were available, you could camp 10 miles away and hike in to the trailhead the next day, or you could walk up to a kiosk to reserve a spot at a thru hiker only campsite called the Birches which I heard was unpredictable. Then you had to have a plan to get out of the park before sundown because it was against the rules to camp there 2 nights in a row.
I walked across the street to the Lakeshore House pub for a lunch of pot roast and potatoes and sat at the bar alone. I talked to an older couple that suggested the pot roast. It was okay. It was food. I headed back to the hostel about 3:30pm with nothing in particular to do.
I went in to the general store there in town to look for a treat. Everything was so expensive I decided to pass. I went back to the gear shop just to look around. At 5 I went back to the BBQ place for the same order as last night. I ate by myself at the bar and looked at all the dead fruit flies covering the wine boxes to my right. By the time I was finished it was about 8. I walked back to the hostel to find a rowdy bunch downstairs watching a movie and laughing and talking loudly. I walked sullenly up the stairs to my bed where I could heard everything clear as a bell. I put in my ear plugs and turned away from the door willing myself to sleep. I had to be up by 6 tomorrow to catch breakfast and then a shuttle back to the trail to begin the 100 mile wilderness.
Zero